2023 Fall Semester Schedule of Classes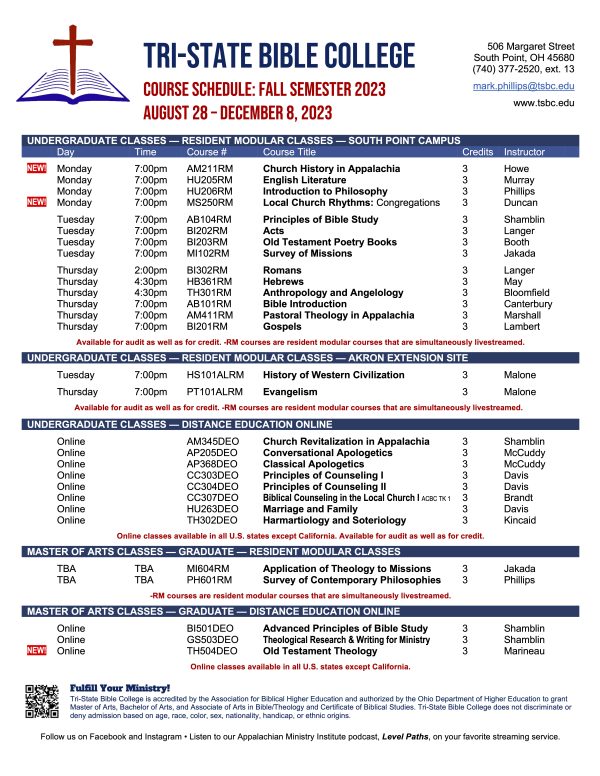 Three New Classes
On Monday evenings, enjoy two new live (residential and online) undergraduate courses: Church History in Appalachia and Local Church Rhythms. Church History in Appalachia presents the study of the history of the church in America. Particular emphasis will be given to the Appalachian region of the U.S.A. The history of gospel movements, church planting, denominational efforts, and key denominational efforts and key Christian figures in North Central Appalachian receive attention in the course. Local Church Rhythms offers instruction in the three rhythms of congregational life. The administration of congregational life focuses on the church calendar, church publications, committees, and management of the facility. This course covers the scope and officiation of funerals, weddings, dedications, and ordinances. The student will receive training in congregational care and visitation in a variety of congregational settings. In the Master of Arts graduate program, three asynchronous online courses are available, one of which is new. Old Testament Theology with Dr. Robert Marineau examines the theological teachings of the Old Testament with emphasis given to the progressive and chronological development of these teachings as they surface throughout the Old Testament text.
Modalities & Extension Site
Students have access to residential (RM), live online (RM), and asynchronous online (DEO) courses this fall. We also are excited to announce the beginning of a three-year plan to stabilize our Akron Extension Site. New students are being accepted at the main campus, extension site, and online.