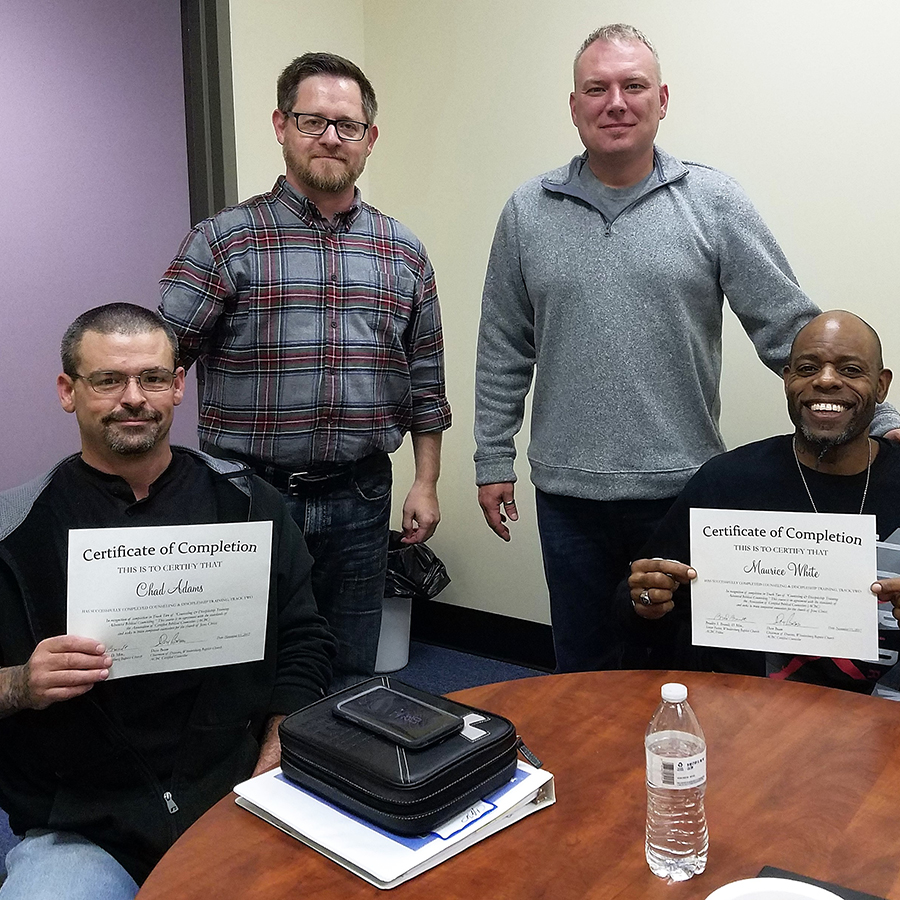 Our institutional core values extend into TSBC student outcomes, creating a graduate profile that reflects the heart and mind of Christ through the community of believing, biblical scholarship at Tri-State Bible College.
With a credentialed faculty that possesses over a millennium of ministry experience and current vocational ministry trends considered, TSBC offers an approach to assessment that blends traditional educational measures of academic engagement with the best practices of competency-based theological education. Four core assessments measure our students' successful fulfillment of the TSBC graduate profile.
Tri-State Bible College endeavors to train students with disciplined minds who are equipped to understand and confront a changing society and who are committed to using their talents to act as servants of God in our present society. As is demonstrated in our mission statement, TSBC equips stewards, shepherds, servants, and scholars in Christ's commission to fulfill their ministries by offering access to a community of believing, biblical scholarship resulting in lives that glorify God through theological discernment, biblical and contextual intelligence, sustainable spiritual devotion, and ministry competence. Our mission motivates students to continually seek and serve our Lord throughout their lives. Thus, TSBC focuses on these principles for our Institutional and Programmatic (Undergraduate and Graduate) Student Learning Outcomes (SLOs), keeping in mind that there are specific learning objectives and goals on the programmatic and course levels. All SLOs reference the Mission Statement and the cycle of assessment.
Graduates of Tri-State Bible College will exemplify our P. A. C. E.:
Prove Theological Discernment.
The theologically discerning graduate of TSBC has the ability and agility to navigate the degrees of doctrinal taxonomy:
Christian Essentials
Community Convictions
Personal Convictions
Opinions/Questions
The exercise of theological discernment leads to the cultivation of Christian values. Graduates will use critical thinking while engaging in the ongoing dialogue between faith and learning. They will identify, gather, and use relevant information ethically, legally, and with godliness. They will understand the tenets of Christianity as they relate to other religious traditions. They will pursue spiritual maturity, maintain intellectual curiosity, and cultivate a healthy lifestyle to present a model of Christ-like behavior.
Acquire Biblical & Contextual Intelligence.
The intelligence and literacy of a TSBC graduate extend to a thorough knowledge of the Bible and its context as well as to the mission field and its context. Our graduates communicate the inspired text in its context to and for people in contemporary contexts. The breadth of their biblical and contextual knowledge expresses confidence that the Bible is the standard of truth, faith, and conduct as stated in the TSBC Doctrinal Statement. Our graduates have knowledge of apologetics and argumentation to address biblical issues in and of today's society. They understand the significance of major religious, intellectual, and societal landmarks as they relate to church history. While at TSBC, they develop an awareness of the cultural diversity of people and societies.
Cultivate Sustainable Spiritual Devotion.
The TSBC graduates experience research and scholarship in a believing community devoted to the worship of God and the enjoyment of his glory. They glorify God as stewards, shepherds, servants, and scholars who meet the needs of their homes, their communities, their churches, and the world. They are experienced in personal spiritual disciplines, and they value the pursuit of God in the Christian community. TSBC graduates know that rigorous academic study of Scripture and deeply authentic worship are integrated pursuits leading to spiritual maturity and vitality.
Exercise Ministry Competence.
TSBC graduates are equipped to offer effective fellowship and leadership to the communities in which they serve in Christ's commission. We provide our students with an opportunity for rigorous study and service-based application so that they might grow in wisdom and knowledge and be prepared for whatever vocation God may call them. Students will apply leadership skills on personal and organizational levels to demonstrate biblical principles in serving others in a real-world context while integrating into their service the characteristics that are inherent in a Christian worldview. Students will demonstrate proficiency in the judgment of the value of materials and methodologies to address societal problems from a biblical perspective in preparation for church-related vocations or the pursuit of further education.
Theological Discernment Taxonomies and Methods
Students' theological discernment will be measured by the completion of individual theological taxonomies in every undergraduate and graduate theology course. The taxonomies develop theological discernment by requiring students to identify
Christian theological essentials
local or denominational community convictions
personal/individual convictions
matters of opinion or desiderata (remaining questions)
For the undergraduate student, TH402 Doctrinal Summarization will serve as the culminating and final summative taxonomy. For the graduate student, TH504 and TH505 contain formative assignments that cascade into the mastering of the theology of the entire Bible.
Formative & Summative Undergraduate Breakdown:
Formative Undergraduate Courses

TH120 — Introduction to Theological Approaches & Methods — Students'
theological discernment will be measured by their demonstrable ability to navigate comparative approaches to theological methods that have surfaced throughout church history (e.g., Biblical Theology, Creedal Theology, Systematic Theology, Canonical Theology, and Sacramental Theology). They'll also learn to distinguish and integrate ways of knowing theology such as (1) Revelation, (2) Tradition, (3) Reason, (4) Experience, and (5) Illumination.
TH201 — Prolegomena, Bibliology, and Theology Proper — TH201 continues the topic of theological methods as part of its "first things" curriculum. Bibliology introduces the Bible to students as a specific revelation from God through the instrumentality of the Holy Spirit's ministry of inspiration through human subjects. The doctrine of God, including trinitarianism and the attributes of God, will introduce the student to the God of the Bible.
TH202 — Christology & Pneumatology, TH301 — Angelology & Anthropology, TH302 — Hamartiology & Soteriology, TH401 — Ecclesiology & Eschatology, and TH204 —Dispensationalism — TH202, TH301, TH302, TH401, and TH204 cultivate the practice of theological methods in community through groupings. Each semester student grouping is required to decide on a methodological approach and to write a one-paragraph statement regarding the topic (e.g., Christology) at hand. The goal is for students to discern the intersectional continuity and/or discontinuity of (1) doing theology in community and (2) approaching theology with different methodologies.

Summative Undergraduate Course

TH402 — Doctrinal Summarization — Students' theological discernment will be measured by the completion of a summative theological taxonomy and accompanying personal doctrinal statement in TH402 Doctrinal Summarization. This cumulative and culminating work by students will serve them in the future as they seek ministry placement, ordination, and participate in the discipleship of their churches and families. This senior level assignment will also equip students to make the teachings of Christianity clear to those outside the church. One more layer of intersectionality will be added to the TH402 course. Students are required to make one visit to the worship service of a denomination that is not their own, and they are required to interview the worship leader(s) of that gathering (i.e., the pastor, the priest, the bishop, etc.). The interview should focus on the leader and denomination's approach to theology method. Communication with the church and the leader will need to precede the student's visit so that the hosts may prepare for their visit and post-visit conversation. Students may organize groups to share the experience together. Each student is responsible for a response paper that summarizes the student's observations about the worship event and evaluates the interview experience. Taking notes is encouraged. Showing respect in these settings is expected as the students represent the name of TSBC during these visits.
Formative & Summative Graduate Breakdown:
TH504 — Old Testament Theology — This course is an examination of the theological teachings of the Old Testament. It emphasizes the progressive, chronological development of these teachings as they surface throughout the Old Testament text. It is a comprehensive integration of the theology of the Old Testament writings of the Bible.
TH505 — New Testament Theology — This course is an examination of the theological teachings of the New Testament. It emphasizes the progressive, chronological development of these teachings as they surface throughout the New Testament text. It is a comprehensive integration of the theology of the New Testament writings of the Bible. The student will generate a theological taxonomy from the New Testament use of the Old Testament, which aims to provide the student with a comprehensive resource for a theology of the Bible.
Biblical and Contextual Intelligence Measurement
The biblical intelligence of entering students will be measured by a diagnostic assessment provided through the ABHE Bible Knowledge Exam upon entering studies at TSBC. This pre-program assessment must be taken prior to the completion of the students first semester of classes.
The biblical intelligence of graduating students will be measured by the ABHE Bible Knowledge Exam as they complete their studies at TSBC. This post-program benchmark assessment must be taken by either the final week in November (based on a fall semester completion date) or the final week of April (based on a spring or summer semester completion date).
The biblical and contextual intelligence of students will be measured in each undergraduate BI course by formative assessments. Two options are given here and can be utilized at the faculty member's discretion. The first is a paragraphic evaluation of a/the book of the Bible exposited in the course. The goal of the paragraphic evaluation is devotional mastery of the content of a book of the Bible, to be able to think one's way through the book from memory. By way of integrating devotional mastery into devotional practice, faculty must require students to use the material they've created in a devotional activity (e.g., prayer calendar, solitude & silence retreat, approach to a fasting schedule, etc.). The second option is an argument paper on a/the book of the Bible exposited in the course. An argument paper must include key introductory features relating to the book of the Bible and a running commentary. Credible sources must be used throughout the argument paper. The goal of the argument paper is to understand the content considering the reception context of the revelatory activity of God. Faculty members may submit an alternative formative assessment to the Academic Affairs Office, which must be reviewed and approved prior to the start of the semester.
Graduate students take two BI courses: BI501 Advanced Principles of Bible Study and BI506 Biblical Exegesis & Interpretation. Both courses focus on the technical skills required to master the exegesis and interpretation of Scripture that is foundational for the task of theology and the practice of one's faith. The skills learned will also expand students' knowledge of the context of the biblical world.
For both undergraduate and graduate students, there are several courses in TSBC's curriculum that cultivate contemporary contextual intelligence for those who minister using God's word (e.g., Appalachian Ministry courses, Missions courses, Apologetics courses, Homiletics, Expository Preaching, Christian Education courses, and Ministry Studies courses). TSBC funnels these  contemporary contextualizing courses into an assessment of intelligence in three areas:
Contemporary Biblical Leadership (character, strategy, and administration)
Contemporary Biblical Communication (research, writing, and speaking)
Contemporary Biblical Worldview (faith, apologetics, evangelism, and discipleship)
The biblical and contextual intelligence of students will be measured by the integration of the bible and culture through AB Courses and culminating in the undergraduate course GS402 Senior Seminar. In GS402, students integrate biblical and general studies and examine the philosophical foundations of various worldviews. Each student is assisted with developing and articulating a comprehensive biblical worldview that causes their cumulative knowledge of the Bible gained at TSBC to engage with the culture and world around them. For graduate students, MI605 Capstone Project integrates biblical and contextual intelligence and demonstrated the students' mastery of the biblical worldview in the contemporary context. The capstone project is designed to give the student appropriate application of all the courses included in the Master of Bible/Theology program. The student will select a project and have it approved by the instructor. Applicable research will provide the data to create a final authentic learning project. The capstone project will be facilitated by the instructor. Students who do not successfully complete the capstone project can register an appeal through the Graduate Appeals Form.
Spiritual Devotion Academic Integration Assessment
Every class at TSBC presents an opportunity for the professor to develop and integrate biblical spiritual disciplines into the lives of his or her students. Dr. Don Whitney teaches biblical spirituality at The Southern Baptist Theological Seminary in Louisville, KY. Whitney is the author of the 1997 work entitled Spiritual Disciplines for the Christian Life, Praying the Bible, and Family Worship. In an article available at DesiringGod.com,[1] Dr. Whitney identifies sixth truths about the nature of biblical spiritual disciplines:
The Bible prescribes both personal and interpersonal spiritual disciplines.
They are activities (1 Tim. 4:7). They are not attitudes. Disciplines are practices.
We are talking about things that are practices taught or modeled in the Bible.
Those found in Scripture are sufficient for knowing and experiencing God and for growing in Christlikeness (2 Tim. 3:16–17).
They are derived from the gospel, not divorced from the gospel.
They are means and not ends. The end, that is, the purpose of practicing the disciplines is godliness.
In David Mathis' book entitled Habits of Grace: Enjoying Jesus through the Spiritual Disciplines, we learn that the primary biblical, spiritual disciplines are threefold:
hear his voice (word)
have his ear (prayer)
belong to his body (fellowship)
He also adds supplemental disciplines to this basic, primary structure:
the great commission to disciple the nations
the discipline of generosity
the discipline of time management
creating margin for communion with Christ
Academic Integration of Biblical, Spiritual Disciplines:
SELECT EITHER: Personal integration element: Faculty must offer students the opportunity to integrate a personal, biblical, spiritual discipline into one of their assignments. Faculty must inform students about what qualifies as personal, biblical, spiritual disciplines and be clear about which assignments qualify for integration.
OR SELECT: Community integration element: Faculty must offer students the opportunity to integrate a communal, biblical, spiritual discipline into one of their assignments. Faculty must inform students about what qualifies as communal, biblical, spiritual disciplines and be clear about which assignments qualify for integration.
Faculty must require students to report on their experience of the personal or communal discipline within the context of the selected assignment.
TSBC Ministry Formation
Ministry Formation serves as an institutional opportunity instrumental in uniting academics with spirituality and devotion. Ministry Form. The details concerning Ministry Formation are available in the designated section in this catalog.
[1] Don Whitney, "What Are Spiritual Disciplines?," Desiring God, last modified December 31, 2015, accessed May 14, 2021,
https://www.desiringgod.org/interviews/what-are-spiritual-disciplines. 
Ministry Competency Map
TSBC has created the course ASMT 200 – Ministry Competency Map. Students are regularly and automatically enrolled in the assessment. There is no charge, no grade, and no credit for the class. It is an assessment of the student's calling and feeling of competency in that calling as they complete their studies at TSBC. Further instructions for completing the assessment are explained in the Populi course.
The Student Self-Assessment
As a result of your learning in the TSBC community this semester, describe the calling of God in your life. Would you describe his calling as a ministry of stewardship, a ministry of shepherding, a ministry of service, or a ministry of scholarship (please do your best to select only one)?
What is a steward?
OT stewards fulfilled their callings in three ways: as managers, missionaries, and mentors. Stewards in the teachings of Jesus and in the letters of Paul fulfilled their callings by faithfulness to the Master in managing assigned responsibilities with an eternal perspective. The language of stewardship is not utilized in the book of Acts or in the letter to the Hebrews. Peter (1 Peter 4:10–11) highlights the passive and active nature of stewardship, as that which is received from God and must be employed for serving others. The resource entrusted to these stewards is
God's diversified, tangible, exceptional effect(s) produced in the church by his generosity (BDAG).
While not exhaustive, ministries of speaking and serving are emphasized here. The goal of stewardship is the glory of God through Jesus Christ. The body of Christ is a receiving community, called to steward God's generous grace in tangible ministry to others in word and deed for God's glory.
What is a shepherd?
According to Ephesians 4:11–16, the ascended Christ gave persons as gifts to equip the body for maturity. Among these persons is the pastor. In his work on exegetical syntax of the Greek NT, Dr. Daniel Wallace writes,
All pastors are teachers, but not all teachers are pastors (Wallace, 284).
The term "pastor" is used interchangeably with two other New Testament terms: elders and overseers. Elders/Overseers/Pastors guard and shepherd the flock in doctrine, discipline, direction, and distinction. While many references are available, Paul's farewell to the leaders at Ephesus in Acts 20:17–28 demonstrated the interchangeability of the three terms. In their book Elders in the Life of the Church, Newton and Schmucker describe the three contributions that the three terms make to describing the one office:
Elder highlights the spiritual maturity of the office
Overseer emphasizes leadership and direction for the church
Pastor focuses on feeding, nurturing, and protecting the flock
In closing, the nature of the shepherd can be further understood in the trajectory of the New Testament's development of the leadership for Christ's church. The Apostolic Office was foundational and temporary. The Missionary or Church Planter is the "closest" thing in function to an apostle in our day (a sent one) but still not the same thing. A local plurality of Elders/Pastors/Overseers within the congregation becomes the aim of the apostles in each church for leadership.
What is a servant?
Just as the plurality of Deacons served the people to free the Apostles for the ministry of the word and prayer in Acts 6, so do they function in the same way today in relation, not with Apostles, but with the Elders/Shepherds/Overseers. God has given the servant keen insight into the tangible needs of the people in their congregation, have the skill, knowledge, resources, and/or capacity to meet those needs, and carry out the task to completion. They are often gifted with mercy, hospitality, generosity, and administrative abilities. They share the heart of our Lord Jesus Christ, who said,
For even the Son of Man did not come to be served but to serve, and to give his life as a ransom for many (Mark 10:45 NET).
What is a scholar?
Beginning with Ezra and continuing through the New Testament period, a group of
teachers/experts/scribes emerged, whose basic task has been described for us in Nehemiah 8:8,
They read from the book, from the Law of God, clearly, and they gave the sense so that the people understood the reading.
These "Scripture scholars" (BDAG) taught the Scriptures to the entirety of the people of God, with a special focus on the next generation. They are faithful disciple-makers. They
discern and value truth. They study hard with great attention to the smallest of details. Their work is pristine and sharp. Our Lord Jesus was called "teacher" (Matt. 8:19). Nicodemus was a "teacher" (John 3:1–10). Paul called himself a "teacher" (2 Tim. 1:11). Sometimes the scribes/experts of the law were skeptical and hostile toward Jesus (Matt. 5:20; 9:3; Lk. 23:10) and other times, they affirmed his teachings (Mk. 12:28; Lk. 20:39). The teachers/experts/scribes had received advanced training to be able to copy and clearly communicate the word of God, so that both its text and meaning continued to the next generation. The Scriptures are clear: there have been good and evil stewards, shepherds, servants, and scholars throughout salvation history.
Our mission at TSBC is to equip stewards, shepherds, servants, and scholars to fulfill their ministries in Christ's commission by offering access to a community of believing, biblical scholarship resulting in lives that glorify God through theological discernment, biblical & contextual intelligence, spiritual devotion, and ministry competence. Access believing, biblical scholarship. Fulfill your ministry.
Whatever calling God is placing on your life, we want your experience at TSBC to contribute to your faithfulness to that calling. Having read the above descriptions, what is God confirming to you this semester? Is he calling you to a life primarily of stewardship, shepherding, servanthood, or scholarship?
The Faculty Assessment
As a result of faculty experiences with the students in the classroom, during ministry formation, and after reading their self-assessments, faculty will provide feedback from a mentor's point of view that develops the student's evaluation of God's calling on his/her life.
They will assess the student's assessment of his or her calling as a steward, shepherd, servant, or scholar.
Having considered the student's self-assessment, faculty will constructively identify key areas that exemplify ministry competence.
Having considered the student's self-assessment, faculty will constructively identify key areas that exemplify ministry incompetence.
Faculty will offer counsel to the students about how TSBC provides access to a community where they can fulfill the ministry to which God has called them. For example, does the student appear to be pursuing a degree and minor emphasis consistent with his/her calling? Are there resources on campus that may cause their ministry callings to grow and flourish? Are there placement opportunities or ministry formation opportunities that may provide students with experiences for further assessing their ministry callings?
TSBC Graduation Rates & Placement
Tri-State Bible College is a four-year institution that offers one-year Certificates, an Associate of Arts degree, a Bachelor of Arts degree, and a Master of Arts degree. TSBC serves a student population primarily consisting of non-traditional, part-time, commuting students. Many students have families, homes, jobs, careers, existing vocational ministry positions . . . full lives overflowing into their respective callings to pursue biblical, theological, and ministry training for God's glory.
Our graduation rates and placement statistics reflect our educational community. Graduation rates typically measure the cohort progression of "first-time, full-time" students. IPEDS defines a cohort as
A specific group of students established for tracking purposes. For the GR component, the initial cohort only includes full-time, first-time students.
Since 2003, TSBC has had only six students who fit the IPEDS criteria: one graduated with an AA, one is an active student in the BA program, two students transferred to other schools, and one withdrew.
Internal research shows that an average TSBC student completes an AA in 5 years, a BA in six years, and an MA in four years. While our in-house cohorts correspond to these averages, we serve a student population that frequently finishes their degrees outside of these averages. For example, we are grateful to have served two students who faithfully completed their bachelor's degrees over thirty-nine years.
AA Cohorts
We did not have new cohorts in 2007 0r 2009. In 2003, neither of our two students graduated within the five-year cohort period, but they both did graduate later. In 2004 (two students), 2005 (four students), 2008 (one student), 2010 (one student), and 2011 (three students), one hundred percent of our students graduated within the internal TSBC cohort period. In 2006 (four students), fifty percent of the cohort graduated within the average TSBC cohort period of five years. The other two students did graduate later, but outside the cohort period. Only one of our five students in the 2012–2017 cohort period graduated on time; two others graduated at later dates. The 2013 cohort saw one student complete the AA on time and one student graduate one year outside the cohort period. One of three students in the 2014–2019 cohort graduated within the five-year period. Fifty percent of the 2015 cohort (two of four) completed the program on time. In 2016, one of six students completed the AA within the cohort period, and another graduated later.
BA Cohorts
The 2003–2009 BA cohort had three students: one graduated within the cohort period and two graduated later. In 2004 (two students), 2005 (four students), 2008 (one student), 2009 (five students), 2010 (two students), and 2011 (five students), all students graduated within their six-year cohort periods. In the 2006 and 2007 cohorts, each had one student—neither of which graduated within the six-year cohort period. However, both went on to graduate later.
In 2010, TSBC opened an ABHE and ODHE-approved additional location in Akron, OH. In the early years, the location struggled in the areas of admissions and financial aid counseling to students. While more students were admitted and enrolled, many students failed to succeed in their programs. TSBC has taken steps to consolidate administration at the main campus and is currently undergoing a feasibility study for the Akron extension site.
In 2012, only two of nine students completed their degrees within the cohort period. While the 2013–2019 cohort saw numbers increase to sixteen students, only three graduated on time and one graduated later. A similar pattern followed in the 2014 cohort, which had thirteen students. None graduated within the six-year cohort period, and only one graduated at a later date. Our graduation rate improved in 2015 when fifty percent (four of eight) of students graduated on time and one graduated later. In 2016, the cohort had three students, and none of them completed their degrees within the cohort period or later. Finally, three students entered the 2017–2023 cohort, and one-third of them (1 of 3) have graduated so far.
MA Cohorts
Our first MA cohort began in 2015 with two students. Both students graduated within the four-year cohort period. One student entered in 2016, and two students entered in 2017. The 2017 students did not finish within the cohort period, and both students remain active.
Placement
TSBC's network of churches includes relationships with XXX local congregations built over more than five decades of ministry training, which does not include our connections to many parachurch ministries. In November of 2022, we promoted our former VP of Administration, Bobby Mercer, to serve as our first VP of Advancement. The Advancement Office focuses on four major areas, one of which is improving our Alumni Relations. If you are a TSBC Alum, please visit our Alumni page.
Since the fall of 2003, we have had fifty-two graduates from our AA, BA, and MA programs. We do not have adequate records on seventeen of these, which has prompted us to reach out and discover more about these graduates. Of the remaining thirty-five, twenty-six received placement (74%) in various vocations of local church ministry,  chaplaincy, Christian education, mercy ministries, and counseling services. Of these twenty-six, six found placement in existing ministry settings and twenty in new ministry settings. At least twenty-eight of thirty-eight graduates since 2003 (74%) have gone on to further their education at schools such as Columbia International University, Liberty Theological Seminary & Graduate School, the Southern Baptist Theological Seminary, New Orleans Baptist Theological Seminary, Southwestern Baptist Theological Seminary, Asbury Theological Seminary, Dallas Theological Seminary, Piedmont International University, Capella University, Marshall University, Gateway Seminary, Luther Rice Seminary, and Grand Canyon University.
Learn more about Student Outcomes!