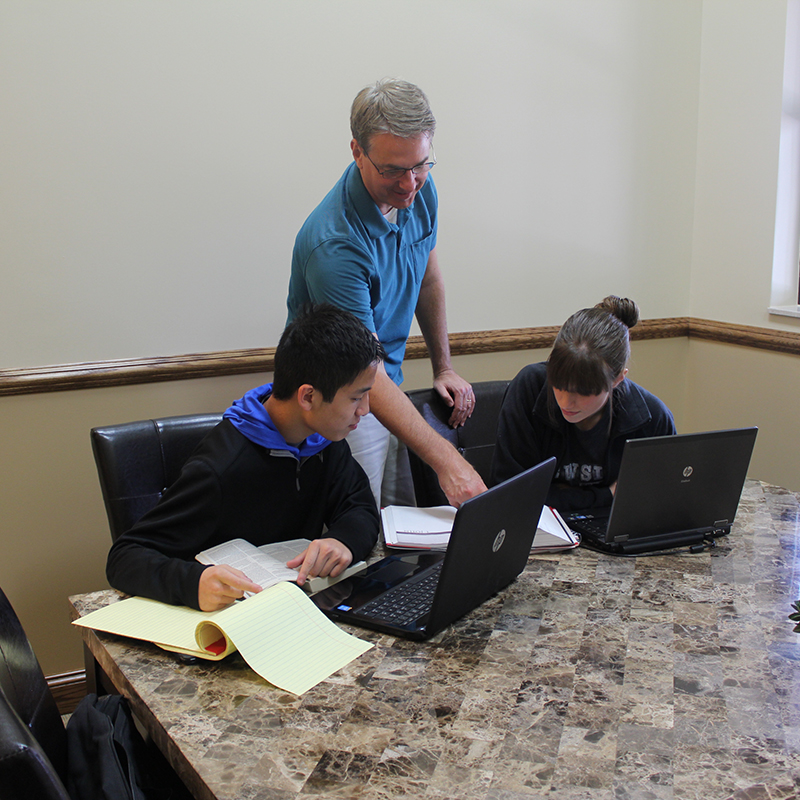 The TSBC application for admission is available here. The Admissions Office personnel will assist students with the admissions policies and answer questions relating to the TSBC curriculum and career objectives.
Application for Admission
A completed application must be submitted to the Admissions Office before the semester for which a student enrolls. A non-refundable application fee must be submitted with the application. All requested admission documents must be submitted to act upon the registration within sufficient time. Provision may be available for a student to receive tentative acceptance before the receipt of all completed documents.
TSBC does not discriminate on the basis of race, color, gender, age, national origin, disability, socio-economic background, or veteran status in educational policies, admission policies, scholarship and loan programs, or other school-administered programs.
Application Procedures – Undergraduate and Graduate Students
Applicant (as indicated by his/her signature) must agree with the "ABHE Tenants of Faith."

We believe that there is one God, eternally existing in three persons: Father, Son, and Holy Spirit.
We believe the Bible to be the inspired, the only infallible, authoritative Word of God.
We believe in the deity of our Lord Jesus Christ, in His virgin birth, in His sinless life, in His miracles, in His vicarious atonement through His shed blood, in His bodily resurrection, in His ascension to the right hand of the Father, and His personal and visible return in power and glory.
We believe that man was created in the image of God, that he was tempted by Satan and fell, and that, because of the exceeding sinfulness of human nature, regeneration by the Holy Spirit is absolutely necessary for salvation.
We believe in the present ministry of the Holy Spirit by Whose indwelling the Christian is enabled to live a godly life, and by Whom the church is empowered to carry out Christ's great commission.
We believe in the bodily resurrection of both the saved and the lost; those who are saved unto the resurrection of life and those who are lost unto the resurrection of damnation.

Applicant must submit two letters of recommendation—one from the applicant's pastor and one from a separate faith-based non-profit organization. A specific form available from the Admissions Office should be used for all recommendations.
Applicant must submit a written account of his/her salvation experience to be reviewed by an Admission Committee.
An interview may or may not be required.
All requested documentation must be submitted two weeks prior to the first day of classes.
Admissions Requirements for Undergraduate Level
Admission to the college requires a high school diploma or its equivalent (GED, etc.) except for qualifying high school students.
To be admitted to Tri-State Bible College, a person must
submit a completed application and pay the application fee.
submit proof of high school graduation, GED, or the equivalent.
arrange for OFFICIAL transcripts from all previously attended colleges to be sent to the Admissions Office. Transcripts issued to students are NOT acceptable.
complete the required assessment tests.
Admissions Requirements for Graduate Level
Admission to the graduate program requires a Bachelor's degree from an accredited institution. During undergraduate education, a prospective student must have earned a minimum cumulative 2.5 GPA.
The graduate student must
submit a completed application and pay the application fee.
arrange for OFFICIAL transcripts from all previously attended colleges to be sent to the Admissions Office. Transcripts issued to students are NOT acceptable.
successfully complete the following classes or equivalents.

AB104 Principles of Bible Study
HB361 Hebrew 1
GR301 Greek 1

submit an autobiographical statement (maximum 1,000 words) that includes a personal doctrinal statement and reasons the applicant wants to earn an MA in Bible/Theology.
possess computer/internet competency.
submit two letters of recommendation sent directly to the Admissions Office from two faith-based, non-profit organizations.
The TSBC Master's Commission will review the application/documentation and has sole authority for approval for admission to the Master of Arts program.
Additional Admissions Requirements
All students must
submit a valid federal or state-approved photo identification.
complete an interview with a TSBC admissions representative to determine a suitable program of study for the ability and commitment of a student.
review the college catalog/handbook. A student has the responsibility to read the college catalog/handbook and is responsible for obedience to the policies and procedures contained in it.
review, complete, and sign the orientation document.
complete additional tasks as required by the college.
Doctrinal Statement Review
A student entering Tri-State Bible College must acknowledge that he/she has reviewed the TSBC Doctrinal Statement to indicate awareness that all courses will be taught within the framework of this statement.
Written Testimony
An applicant for admission to the undergraduate or graduate program must submit a written personal testimony revealing his/her sincere desire to study the Word of God.
Placement and Assessment Exams
An English placement exam and other assessment exams may be required upon undergraduate admission. These are administered at no financial charge to the student.
Standardized Bible Content Test
The Standardized Bible Content Test, published by the Association for Biblical Higher Education (ABHE), is required as part of each undergraduate student's first semester at TSBC. This test is available in and administered by the office of the Vice President of Academic Affairs. There is no fee associated with this requirement. The test is administered again as each student graduates. The test results do not impact admission or grade point average, rather they help TSBC measure the training within each degree program.
Transfer Students
A transfer student must submit official transcripts to TSBC and complete the standard application process. Transcripts must provide evidence of good standing.
A transfer student must:
be in good standing academically (2.0 GPA or above for undergraduate students and 2.5 GPA or above for graduate students) with previous institutions. A student who does not meet the required GPA transfer status will be allowed to enroll with self-pay status for a probationary period. After completing a probationary period at TSBC, a student with good academic standing will be evaluated for admittance into a qualifying degree program and may be eligible for financial aid.
be in good standing financially with all previous institutions. In the event of outstanding debt, the debt must be paid to be considered in good standing. A student not admitted into a degree program is not eligible for Title IV financial aid.
The Vice President of Academic Affairs and Administration may make exceptions on a case-by-case basis to this policy where applicable.
Residency Requirements for Transfer Students
An undergraduate transfer student must complete in residence at TSBC 33 credit hours for a BA degree, 18 credit hours for the AA degree, and 9 credit hours for the Certificates. In the BA and AA degree programs, a minimum of 6 credit hours must be taken in both Bible (BI) courses and Theology (TH) departments.
A minimum of 24 credit hours must be completed at Tri-State Bible College for a graduate transfer student. Transfer credits from accredited institutions may be accepted at TSBC if they meet the program requirements and at least a 2.5 GPA has been earned.
Transfer Credits
The Registrar and/or the Vice President of Academic Affairs will evaluate the transcripts of each transfer student. The following guidelines are used in the evaluation.
Credits from institutionally and programmatically accredited college-level institutions included in the USDE Database of Accredited Postsecondary Institutions will be reviewed for transfer credits. Transfer of credits from non-accredited colleges will not be accepted unless specifically approved by the Registrar and the Vice President of Academic Affairs. No transfer credit is given for a class unless a student earned at least a grade of "C."
Transfer credits in Bible and Theology will be accepted only from colleges of like faith and doctrine.
When computing the grade point average for transfer students, only the coursework completed at TSBC is included. 
Readmission
A student who withdrew from TSBC in good standing will be readmitted. A new application may be required; however, the application fee will be waived. If college-level coursework has been completed elsewhere during the withdrawal period, a student must request an official transcript of credits be sent to the TSBC Admissions Office. Please contact the Registrar for additional information.
A student who withdrew from TSBC that is not in good standing can reapply. However, he/she may be readmitted on a probationary status.
Students with Disabilities
TSBC makes every effort to assure that all students have total access to campus facilities open for student use. If a difficulty occurs, students should notify the VP of Administration or Academics.
Auditing
Students wishing to audit classes should contact the Registrar's Office or Office of Admissions.
Contact the admissions office with questions